WALL INSTALLATION AND DELIVERY
INSTALLATION SERVICES
More than a manufacturer. From 'Request For Quote', through design, manufacturing, and installation, we are with you for EVERY step.
We Know Walls. It's What We Do. We Know What It Takes.
SYMBIO is owned by Environamics, a 40-year leader in interior construction. We understand the process with proven timeliness, efficiency and on-site communication. With two full-scale manufacturing facilities in the USA and in-house installation teams, we're there from start to finish.
When your manufactured product becomes an installation project, let us show you the SYMBIO Way. Verify in Field (VIF) dimensions, contractor coordination, material deliveries, unique loading conditions, we've got it covered. Our team of Project Managers lead our clients through the installation process when job schedules are tight and occupancy dates are approaching. The ability to be flexible but cognizant of these changes, and communicating to all parties, is paramount for your client and our installation teams.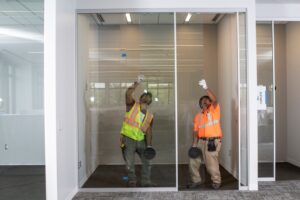 Start to Finish
From quote to final trim out, and all that happens in between, we're there for you.