SUSTAINABILITY
Helping Build a Greener World
Our Commitment
SYMBIO is committed to doing our part in maintaining and improving the quality of the natural environment for all future generations through the implementation of sustainable design and manufacturing processes.
Our original movable wall system, developed over 40 years ago, was eco-friendly before 'green' building became popular. The ability to relocate entire walls and reconfigure office spaces creates tremendous value to environmentally conscious customers who are also concerned about their return on investment (ROI) of capital for their facilities.
Numerous improvements such as utilizing low VOC (volatile organic compound) adhesives and materials have been incorporated over the years. New product and product lines are developed with the environment in mind by using a strict Design for Environment procedure.
Recyclability of product that has reached its useful life has always been an advantage of all the wall systems we manufacture. We offer several end-of-life options such as disassembly instructions, including descriptions of which materials are recyclable or our 'take back' program where entire panels are returned to be re-manufactured or disassembled for recycling.
We are a member of the USGBC (United States Green Building Council) and support both the national organization and local groups. We are also a member of BIFMA (Business and Institutional Furniture Manufactures Association) and participate in both the Level Certification Program and the Clean Air Program. A full LCA (Life Cycle Analysis) has been conducted on our product line and an independent third-party certified EPD (Environmental Product Declaration) is available at the end of this page.
LEED
No product or material can be LEED certified, only buildings that meet pre-defined criteria developed by the USGBC (United States Green Building Council) after rigorous examination can be deemed that. Examinations are conducted by using one of the several rating systems LEED offers. New construction and major renovation or commercial interiors may be declared LEED Platinum, Gold, Silver or certified based on the number of credits attained.
SYMBIO has a LEED accredited professional on staff that can answer any questions regarding the rating systems, provide detailed calculations before a project is installed, and can document information required by the rating system chosen.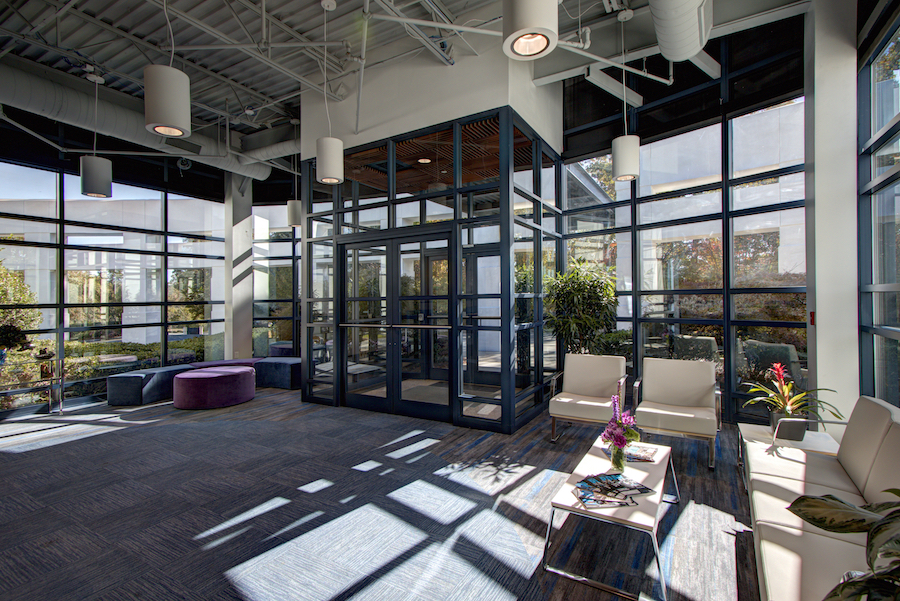 SYMBIO Wall Systems can help attain LEED credits in the following areas:
Recycled Content – Standard demountable walls typically contains 20-30% recycled content and SYMBIO Walls typically contains 70-80% recycled content based on product mix and finishes selected.
Regional Materials – Our Charlotte, NC and Dallas, TX manufacturing facilities are close to population centers, and we obtain raw materials from local sources for projects outside the 100-mile boundary of the manufacturing plants whenever possible.
Indoor Environmental Quality – SYMBIO product is 'Clean Air' certified, see the section on LEVEL below. All wall system products are manufactured using low or no volatile organic compounds and typically no adhesives or sealants are required on the job site.
RECYCLABILITY
SYMBIO Walls utilize materials that have recycled content and are recyclable at the end of their useful life.
Some of our demountable panels are constructed using gypsum, one of the most abundant raw materials on the planet. Gypsum is also one of the most recyclable building products.
Aluminum is one of the most recycled materials used in construction. The aluminum we use in our wall systems components is extruded from aluminum that has a minimum of 50% recycled content.
Our panel hard-surface inserts are constructed from MDF board that contains up to 100% recycled material and to which no formaldehyde has been added. Panel inserts can be finished with a variety of eco-friendly fabrics, wallcoverings and FSC certified wood veneers.
FSC-certified wood products for panel inserts and doors may be special-ordered on request.
ENVIRONMENTAL STATEMENT & GOALS
SYMBIO aggressively practices environmental awareness and has established goals towards being "sustainable". It is the goal of our company to show through programs, plans, and activities, that our full height wall product solutions are also participating in the important stewardship of the planet.
RETURN ON INVESTMENT (ROI)
One of the greatest advantages to specifying demountable walls over conventional drywall is the ability to relocate and reconfigure all interior spaces rather than demolishing and re-constructing, which will increase the return on capital investment. Detailed calculations can be provided for any project that would like to compare the costs advantages of our movable wall systems over traditional construction methods.
LEVEL®
LEVEL® is the third-party certification program for the furniture industry's multi-attribute, sustainability standard. The ANSI/BIFMA e3 Furniture Sustainability Standard was created to deliver an open and holistic means of evaluating and communicating the environmental and social impacts of furniture products in the built environment.

Considering a product's environmental impacts (materials selected, energy usage, etc.), health and wellness impacts, and a company's social actions, among numerous other impacts, LEVEL® addresses how a product is sustainable from multiple perspectives.

The entire SYMBIO family is involved in community outreach programs on an annual basis and records of the activity are publicly available upon request. 'Clean Air' testing is performed on SYMBIO Wall products on an annual basis and GOLD status is certified.
Learn More